English CV and Informations
Gerrit Zitterbart, piano and fortepiano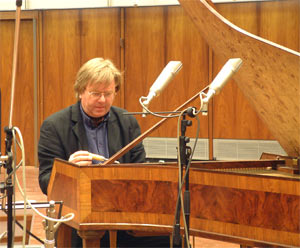 Gerrit Zitterbart (born in Göttingen in 1952) was trained in Hanover, Salzburg, Freiburg and Bonn by Erika Haase, Karl Engel, Lajos Rovatkay, Hans Leygraf, Carl Seemann and Stefan Askenase.
At the beginning of his career, he succeeded in international competitions in Switzerland, Belgium, France, Italy and Germany. Gerrit Zitterbart has made a name for himself as a soloist and chamber musician (including 41 years in the Abegg Trio). He has given more than 3,500 concerts in over 50 countries throughout his career.
His repertoire is extensively documented on over 75 LPs and CDs - with modern and historical grand pianos alike. Over the past 20 years, the pianist has also performed on historical pianos, finding innovative approaches to solo recitals, chamber music, lied and piano concerts with orchestra.
From 1981 to 2022, Gerrit Zitterbart taught a piano class at the Hanover University of Music, Drama and Media. He has been a professor since 1983. Gerrit Zitterbart taught young talents from Germany, Denmark, Poland, Romania, Bulgaria, Lithuania, Russia, Georgia, Israel, Japan, Korea, China, Canada and the USA. Students from the Hanover University and masterclasses were successful in distinguished international competitions in Paris, Moscow, Geneva, Grosseto, Rome, G
ranada, Valencia, Dortmund, Berlin, Bonn and Tel Aviv, among others.
In 2012, Gerrit Zitterbart founded the "Clavier-Salon" in Göttingen, where various historical instruments from Vienna, London, Paris and Berlin are available to him to offer a wide range of concerts.
Some reviews
Mozart: Concertos C major K 246, B flat major K 238, E flat major K 271
Gerrit Zitterbart is a splendid Mozart pianist. His tempos sparkle, his phrasing is crisp, and his touch (especially in 
slow movements) is caressing and sensitive but not precious. His Mozart is alive. It breathes. It also sings. This is Mozart playing of real character and individuality.
American record guide
As with his splendid Hänssler release devoted to Haydn keyboard concertos, pianist Gerrit Zitterbart again applies his stylish sensitivity to a trio of early Mozart concertos. The performances easily rank with the finest recordings of these works now available. Although Zitterbart plays on a top-of-the-line Bösendorfer Imperial Grand, he takes subtle advantage of his instrument's plangent, unhomogenized timbres that suggest a fortepiano's registral differentiation. In turn, Thomas Fey's Schlierbacher Kammerorchester proves that the gaunt and tart sonorities characterizing period instrument ensembles can be achieved with arguably more flexible results on modern instruments, although Fey uses natural horns instead of their stabler modern counterparts. The conductor, to be certain, doesn't entirely avoid those self-conscious dynamic swells that are as mannered today as string portamentos were in the late 19th century, yet he doesn't make a habit of them. More importantly, you sense that conductor and pianist are perpetually engaged in playful dialogue, responding to each other's phrases as a pair of old friends might pick up each other's sentences in midair. There's just enough ornamentation to keep the listener on guard (catch Zitterbart's cute little turns at the outset of the E-flat concerto's Rondo theme), but never more than necessary. You never can get enough Mozart from vibrant, caring musicians like these; is more on the way?
Jed Distler · Classics today (USA) 2002
This is, not to beat about the bush, a thriller. It marks, as the French would say, »a date« in the history of Mozart piano-concerto recordings. Gerrit Zitterbart has already made two Hänssler discs of earlier ones. I reviewed the first, cannily coupling the three concertos of K 107 with the Christian Bach sonatas they were arranged from, with enthusiasm in 20:5; the second, comprising the four still earlier K 37, 39, 40, and 41, seems unaccountably to have passed me and Fanfare by. But the new release is the first to tackle Mozart concertos of genuinely original status and relative maturity, and as such it establishes a new standard for recordings of this inexhaustible treasure house of music.
As it happens, Zitterbart, a German pianist now in his late forties, has recorded K 246 before. It was that version, a live 1990 performance coupled with K 595 on the Gutingi label, that led me to engage him to play a Mozart concerto with the Residentie Orkest in the Hague when I was that ensemble's artistic director in the mid 1990s, with results that I think delighted everybody. The performance he has now put on disc for Hänssler marks, nevertheless, a notable advance in Zitterbart's achievement. It benefits from slightly faster tempos in the outer movements and a distinctly more fluent pulse in the Andante, and it also benefits from the orchestral contribution of the Schlierbach Kammerorchester under Thomas Fey. Together these musicians seem to me to have done for these still fairly early Mozart works something akin to what Leif Ove Andsnes on a spectacular EMI disc did for a group of Haydn piano concertos a year or so ago. That is to say, there is a sheer zest about these performances that, without falsifying the music, makes it sound more valuable and downright exciting than I have ever heard it sound before. Who would have thought. as Lady Macbeth might have asked, that these pieces had so much blood in them?
I had better warn readers that some may find the orchestral element in these performances brutal. With a modest string complement of 4-4-2-2-1 and using (with the exception of the natural horns) modern instruments, but adopting a rigorously selective practice in the matter of vibrato, Fey draws bold and startling sonorities from his orchestra. In my judgement, the bracing tone never goes beyond the bounds of appropriate style or attractive music-making. Fey shows that modern instruments, played with an awareness of historical-performance practice, can provide the best of both worlds, partly because the dynamic contrasts they make possible go beyond what most period-instrument performers are able to achieve. Zitterbart's Bösendorfer Imperial sounds wonderfully limpid in tone. Soloist and conductor alike have an unerring instinct for the rethoric of these pieces. Accents are strong, not to say tigerish, again without transferring us into an inappropriately Romantic sound world. The powerfully delineated bass that is a feature of the recorded sound produced by Andreas Spreer is another positive factor in the success of the whole, as is the soloist's well-judged use of melodic embellishment at all the right moments.
These are performances that had me smiling, chuckling even, at their rightness of conception and skill of execution. If only Hänssler had given the great Ivan Moravec a conductor like this, instead of the eminent but humdrum Neville Marriner, for the two discs of Mozart concertos they made with him in recent years! The loss is Moravec's, and ours too. But Zitterbart is so good that he deserves his place in this project, and I hope it will continue with some of the later concertos. That, as the awesomely dramatic yet irresistibly sprightly performance of K 271 that concludes the present program intimates, will indeed be something to hear. Meanwhile I urge you not to miss this revelatory disc.
Bernard Jacobson · Fanfare (USA) May/June 2001
This is an extraordinarily pleasing disc, containing the oft-performed Concerto in E-flat K 271, as well as two concertos written a year before, in 1776. Without excessive emphasis, with a beautifully rounded tone and expressive tact, Zitterbart makes as good an argument for the two earlier works as I have heard. Some might find the playing understated. I don't find it so. Zitterbart and the Schlierbacher Kammerorchester are in perfect balance throughout: They seem to be collaborating rather than conversing. Zitterbart, who has recorded even earlier Mozart concertos, uses a modest amount of rubato in his solo passages, and accents in a lively fashion. The orchestra follows his most intimate gestures perfectly. I don't know any obviously preferable recordings of these pieces. Zitterbart and Fey take the same approach to the more dramatic K 271, emphasizing its lyrical flow, its songfulness and good cheer. That means that there are more dramatic recordings around. Still, it is easy to recommend this performance. The wonderfully warm and realistic recorded sound helps.
Michael Ullman · Fanfare (USA) July/August 2001
Haydn: Concertos F major, G major, D major
Concerto No.4 (F major), Concerto No.5 (G major): The finest performance is by Gerrit Zitterbart (piano) with the Schlierbach Chamber Orchestra led by Thomas Fey; it's a supple and expressive reading with wit and drama. Ax is stronger than Alpenheim but less imaginative than Zitterbart.
Concerto No. 6 (D major): Not only are the reliable Alpenheim, the decent Rosel, and the eloquent Gerrit Zitterhart in the running, but also such heavyweights as Argerich and Kissin. There are also piano versions from Ax, Helen Chang, and Davidovich. None is negligible, but of the piano versions Zitterbart wears the best.
American record guide
Mozart: Concertos K 107, 1-3
The 8-year-old Mozart met J.C. Bach in London, heard and played his sonatas, and eight years later adapted three as the concertos (K. 107). These early concertos show both homage and independence. Mozart arranged the piano writing to combine with a very small orchestra, yet the piano writing became distinctly Mozart's. Where J.C. Bach's writing was formal and reasonable, its lucidity emphasized by the lyrical style, Mozart's leapt with energy and extraordinary turn of phrase.
These early concertos rarely reach the concert stage now. They have been overshadowed by the ones Mozart wrote afterward, but they remain extraordinary pieces, full of exploration, lyricism and invention. Pianist Gerrit Zitterbart plays them on a Bösendorfer, showing that music conceived in the earliest days of the piano carries its eloquence forward even through the largest instrument. The string players, however, use period instruments, creating a musical free-for-all that has the weight of conductor Thomas Fey's own convictions.
The Bach sonatas that inspired Mozart's concertos follow on the disc. Zitterbart finds the lyrical key to the music while clarifying form and harmony. J.C. Bach's musical vision and gift for the succinct statement are made clear in these performances.
The News-Times 2001
Repertoire with orchestra
Joseph Haydn (as well with fortepiano)
Concerto F major Hob. XVIII:3 *
Concerto G major Hob. XVIII:4 *
Concerto D major Hob. XVIII:11 *
Wolfgang Amadé Mozart (as well with fortepiano)
Concerto F major KV 37 *
Concerto B flat major KV 39 *
Concerto D major KV 40 *
Concerto G major KV 41 *
Concerto D major KV 107,1 *
Concerto G major KV 107,2 *
Concerto E flat major KV 107,3 *
Concerto B flat major KV 238 *
Concerto C major KV 246 *
Concerto E flat major KV 271 *
Concerto F major KV 413
Concerto A major KV 414
Concerto C major KV 415
Concerto G major KV 453
Concerto d minor KV 466
Concerto C major KV 467 *
Concerto E flat major KV 482
Concerto A major KV 488 *
Concerto C major KV 503
Concerto D major KV 537
Concerto B flat major KV 595 *
Aria KV 505 *
Ludwig van Beethoven (as well with fortepiano)
Concerto C major op.15
Concerto B flat major op.19
Concerto c minor op.37
Concerto G major op.58
Concerto D major op.61a
Concerto E flat major op.73
Tripelconcerto op.56
Choralfantasie op.80
Felix Mendelssohn-Bartholdy (as well with fortepiano)
Concerto g minor op.25
Concerto for violin, piano and strings
* means recorded on CD